News & Stories
Additive Marking - Automatically Marking 3D-Printed Goods
How would you describe your business idea to a potential investor?
Traceability is the driving factor of a smart production, smart factories and a smart product life cycle, often related with the digital twin. 3D-printing finds itself in the core of the 4th industrial revolution, being enabled by widespread digital technologies and enabling the convergence of digital, biological, and physical innovations. We place ourselves in between those topics and develop a software to automatically join physical products with their digital twins. 3D-printed products are tagged with direct part markings and machine-readable IDs during the print process without increasing manufacturing costs. The solution is designed as a Software-as-a-Service (SaaS) and as a licensing model.
What problem do you want to solve, what is your goal?
The production process chain and asset tracking even within additive manufacturing is still driven by paper production sheets. Parts are traceable only for short periods of time, restricted to certain manufacturing steps and if the production sheet is at hand. Furthermore, brands suffer from the ability to print anything anywhere, resulting in losses and potential fallout if counterfeit low quality parts failing in critical applications. Therefore, neither we, nor our customers were convinced by the other solutions and we made it our goal to provide automatic and product integrated markings, tracking and brand protection for all 3D-printed goods, without manual intermediate steps needed for each part.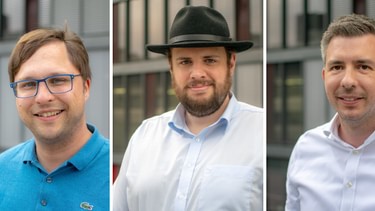 How did you come up with your idea?
When our founding team started out working on 3D-printing research at Paderborn University's associated Direct Manufacturing Research Center, we focused on cost-driven additive manufacturing process optimization and anti-counterfeiting measures. This involved intensive part testing and consideration of all potential influences on the parts quality, such as print job, down to the positioning and orientation of the part in the printer, and post-processing steps. Quickly it became obvious, that parts needed to be tracked through their product life cycle. Basic yet still common approaches like marking parts with permanent markers were not solving our requirements due to their insufficient durability during post-processing. So, we started the development of our own software to mark parts individually and automatically, drastically reducing the time needed for the preparation and post-processing of our test specimen. Later we started researching and adding machine-readable codes, to enable further traceability possibilities.
During the development of our software we noted a strong interest from many companies that had similar problems, which led to our decision to advance the idea professionally as a start-up.
What is your business model?
We provide our software as a SaaS cloud service and as a licensing model for OEMs, platform providers, 3D-printing service providers and research centers. Our services aim at both, small and large companies alike. The SaaS primarily targets companies that don't want to buy additional software and the necessary computing capacity but want our solution to "just work". For larger applications, we provide our licensing model with special functions that will be added and enable further and optimized marking options, extended support as well as an on-premises solution for secure data storage.
The software is complemented by intensive consulting and training for those customers requiring our vast experience with 3D-printing, part identification, as well as direct part marking and tracking.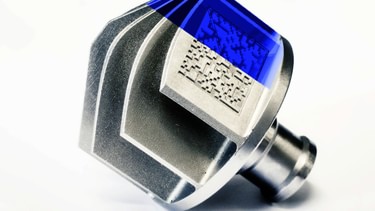 Which industries profit most by your solution?
Applications can be found in every industry branch that utilizes additive manufacturing techniques. When we search for specific applications that bring the greatest value to our customers, we find them in industries that use 3D printing to produce critical parts. These are the parts, whose failure can have a tremendous impact, either on human health, economically or on the overall function of the assembled product. Currently, the medical, aerospace, automotive and public transportation sectors provide the most applications in this area and are some of the fastest growing industries to use additive manufacturing.
Why now?
Up until recently, additive manufacturing was mostly used for rapid prototyping. Due to several factors, e.g. the rising demand for light and customized components, the industry, and especially large corporations, is increasingly turning towards serial production of 3D-printed parts. Forerunners in this field are the medical, automotive and aerospace companies. This development is flanked by new regulations and specifications that provide a fundamental set of rules for additive series production, e.g. the DIN-SPEC 17071 and the draft of the VDI 3405 Blatt 5.1 that considers legal aspects of the additive process chain. Also, new regulations for existing industries, such as the Medical Device Regulation (MDR), change the requirements for 3D-printed products. These rules and regulations require individual identifiers, such as a UID. Our software enables our customers to fulfill these requirements today.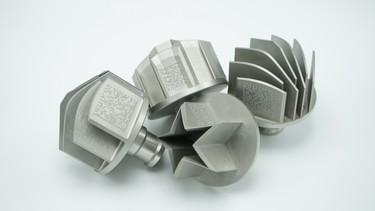 What could a smart factory look like with your solution?
On the road to smart factories and an "Industry 4.0" large advances in automation and thus an abundance of data and information is needed that is currently carried by paper production sheets. We believe that a smart factory is completely paperless and that this can be achieved by making information a digital and inherent part of any 3D-printed component. The VDMA developed the "Digital Component File" that can serve as the corresponding information carrier. With our software each component can be robustly linked to its digital twin, thus making paper production sheets superfluous and enabling a fully automated additive production process.a partly digitized bread stamp (DE: Stüpfler) that is marked with our technology, currently in use in a bakery
Why did you decide to work with XPRENEURS?
We have built our start-up on our own from scratch, driven just by our idea and our first customers. Now we have reached a point, at which we can no longer develop on our own. XPRENEURS offers a lot of knowledge and experience for start-ups and has strong ties to the 3D-printing community, which allows us to have a lively exchange. The workshops, community and exchange events and 1-on-1 sessions with mentors as well as top-class partners provides us with the input needed to develop our start-up and drive our business forward.
You can get more information about Additive Marking on their website or follow them on LinkedIn.
You want to become part of the XPRENEURS incubator program as well?
Get more information and apply at https://xpreneurs.io/