News & Stories
Clypp - Knowledge Sharing within Companies through Personalized Video Tutorials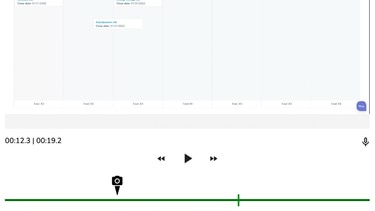 Clypp is a B2B knowledge sharing platform, enabling every employee to easily create & share personalized 3-min video tutorials across company-internal channels.
How would you describe your business idea to a potential investor (who is not an expert in your particular profession)?
Informational content today needs to be provided fast, compact and easy. We offer a browser-based B2B application for creating and sharing company-internal knowledge accessible on any device — making information handily available anytime, anywhere for all employees.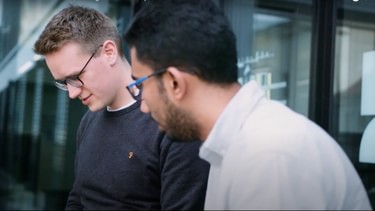 Clypp enables every employee in a company — an expert in their respective assignments — to create personalized content and share it across internal channels. Use cases include onboarding new colleagues, explaining new processes & products, answering frequently asked questions, or quickly creating marketing material.
Cylpp not only creates a competitive advantage by providing a modern, interactive way of sharing internal information, but also promotes information exchange on a more personal level, thus additionally strengthening internal communications.
What problem do you want to solve? What is your goal?
The outbreak of Covid-19 has led to multiple developments that make it very challenging to share information within organizations: In the home office, one cannot simply ask a colleague directly anymore. However, writing questions in an email can lead to waiting forever because recipients receive hundreds of them every day. And since intranets have often been neglected in previous years, looking up information there often is unhandy, unintuitive and time-consuming.
With our B2B-software Clypp we aim to create the most engaging knowledge sharing solution on the market. We enable every employee to easily create short 3-minutes video tutorials in an interactive step-by-step process. Such videos are then internally published on our knowledge platform and can quickly be shared across company channels like Slack and Microsoft Teams.
How did you come up with your idea/concept?
We got to know each other in the Manage&More scholarship at UnternehmerTUM, where we worked together on a consulting project for Audi. Since then we were fascinated by the B2B productivity software space and decided to pursue projects in this area during our studies to discover neglected blind spots of current solutions. After graduating in March, we founded Clypp — right at the beginning of the first major lockdown with a rough product idea and a semi-functional prototype.
In order to fund our product development and gain more experience in the field of knowledge management (KM) and E-Learning, we consulted medium-sized businesses in their KM and Learning strategy & implementation. With the experience we gained in our projects, where we worked directly with CEOs and COOs of our client companies, we developed our very first working prototype of Clypp.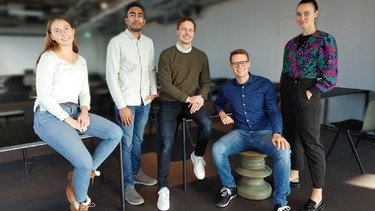 What is your business model?
Our GDPR-compliant software-as-a-service is running on a subscription model, starting from €2 per user per month. We also charge our clients a one-time set-up fee which covers everything from setting up the new user accounts to implementing an interface to the system of their choice.
Moreover, we provide on-demand video content packages for widely-used software like Microsoft Office or Atlassian applications. So far, we were able to successfully welcome over 1000 users on our platform!
Where do you see Clypp in 5 years?
While we currently focus on enabling our users to create high-quality video content for sharing knowledge easily, we plan to integrate various other ways of content creation, including audio, Q&A, etc. — mixed together in a dynamic engaging way.
We imagine our platform to become one of the leading providers for user-friendly, fun knowledge management for companies — not only in the DACH-region but worldwide.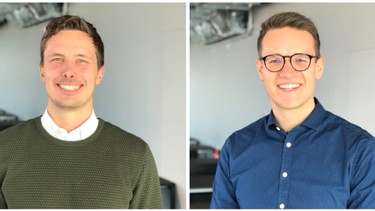 What advice would you give to other start-up founders?
Try to gather advice from people more experienced than yourself as much as possible. Most likely, others have been in situations similar to yours before and are more often than not very willing to pass their knowledge on to you.
Also: Start user-tests as soon as possible to get a good feeling of what users (and customers) really need or want, not just what you believe they do.
Why did you decide to work with XPRENEURS?
XPRENEURS provided us with three very essential building blocks for our business:
A vast network of startup friendly clients who look for innovative solutions and are willing to take chances on new products.
Experienced mentors whose critical feedback always helped us to improve our product offer.
Becoming part of Munich's best founders network for all ages and all the goodies that come with getting to know the super smart people behind very successful startup teams.
Get more information about Clypp on their website or connect with the team on LinkedIn.

You want to become part of the XPRENEURS incubator program as well?
Get more information and apply at https://xpreneurs.io/.