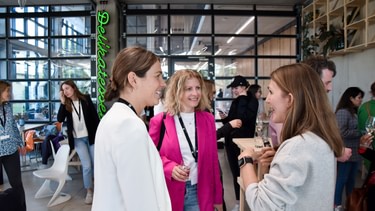 With our new Batch #12, we were able to achieve a goal of which we are particularly proud. Among our 17 teams from various industries, we have 6 start-ups with female founders! During our application phase, we already noticed that this time we were able to inspire more female founders to apply to us. With a rate of 26.7%, roughly 10 % more female founders applied than in the last Batch. Now we can proudly announce that among the 17 teams we selected for Batch #12, we have 35.3 % teams with female founders.
The following teams are represented among these start-ups:
We truly believe that a supportive, open and diverse environment is essential in encouraging more diverse teams and female founders. With our Female Founders Office Hours and our pitching events, we aim to further strengthen female entrepreneurship and foster diversity in general. Over the past months we supported 41 female founders with high-quality feedback and mentoring from top level experts in various areas. In this mission we are supported by strong partners such as UVC Partners, Women Start-up, Nauta Capital, and the Female Investors Network. Female founders can book a session with our experts here.