News & Stories
Happy Ocean Foods - Tasty, Healthy And Sustainable Plant-Based Seafood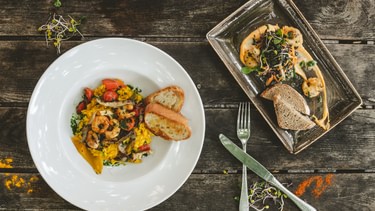 How would you describe your business idea to a potential investor?
Happy Ocean Foods develops tasty, healthy and sustainable plant-based seafood, using algae as a main ingredient, one of the fastest growing organisms on our planet. The first product is a plant-based shrimp, which looks, feels and tastes similar to a real shrimp and is rich in protein and omega-3 fatty acids. Therefore it is not only an alternative for vegans or vegetarians and can serve the mass market.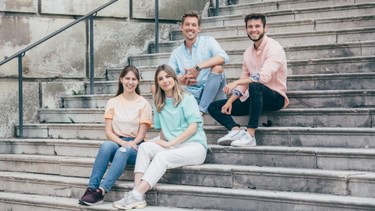 What problem do you want to solve, what is your goal?
According to the UN Food and Agriculture Organization (FAO), one third of the oceans are overfished and a further 60% endangered. The alternative supply by using aquacultures leads to serious environmental damages, because of deforestation and pollution of the oceans. Consumers who try to reduce their consumption of seafood and fish are not able to find an equal alternative at the moment, since the market only offers unhealthy products and products with different nutritional values. Therefore, our goal is to have a significant impact on the food system by offering an equivalent to real seafood, so we can make a contribution to restore the ecological balance of the oceans.
How did you come up with your idea/concept?
While traveling the world and reading a lot about the future of food, our co-founder Julian realized how harmful our current food system is to the oceans and that there is a growing trend for "plant-based" food as an alternative to animal products. That is why he decided to do some market research on plant-based seafood and found out that there was only one startup in Europe, which was developing equivalent seafood alternatives. Given this market opportunity as well as potential impact, the idea for Happy Ocean Foods was born and Julian quickly reached out to Viktoria and Robin, who he knew from a previous employer. As Viktoria was our only team member with a background in food science (Julian and Robin have a background in economics), we decided to look for one more "foodie" and found Christina, who studies Biomedicine and Nutrition.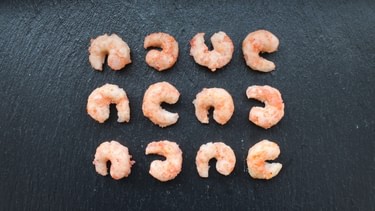 What is your business model?
Our main focus and expertise lies on research and development as well as marketing and branding. We will enter the market by cooperating with restaurants and restaurant chains, which will offer our plant-based shrimps in their dishes/on their menu. In the next step we plan to start selling our products to organic food as well as premium supermarkets.
How will your solution help to solve the aforementioned problem?
Our plant-based seafood can help to reduce the ecological damages of overfishing and aquaculturing, since it is a highly sustainable alternative made of algae, which is sourced and produced without harming our ecosystems and environment. Moreover, our product is free of antibiotics, microplastic as well as toxins and we only use organic ingredients. On top of that it is high in protein and omega-3 fatty acids, which makes it a valuable alternative also from a nutritional point of view.
What is your educational background and working experience?
Christina, our head of research and development is studying Biomedicine and Nutrition (M.Sc.) and is an expert in the field of nutrition research, food science and biosciences. Furthermore, she worked in a laboratory for chemical and microbial examination of food. Christina is supported by Viktoria von Beerfelde, who is an experienced product manager and responsible for the quality management. Our co-founder Robin acquired a M.A. in media management and has versitale business development & operations experience within startups in the digital transformation, food and e-commerce sector. Julian studied International Management and gained long-standing experience in the field of marketing, sales and business management in several startups with the food & health sector and has successfully founded a health startup before Happy Ocean Foods.
Who are your customers and who is your target group?
In the first step our customers will be restaurants, which offer premium seafood (e.g. Sushi restaurants or Poke Bowl restaurants), vegan food and overall healthy food. These restaurants attract mainly LOHAS (Lifestyle of Health and Sustainability) as well as vegans or vegetarians as end consumers, who are the main target group for our product. But our ultimate goal is to convince and reach regular fish and seafood eaters, as this would help us to make a huge difference.
Why did you decide to work with XPRENEURS?
As the programm focus is on early stage startups and the XPRENEURS team consists of experienced startup mentors who can give valuable feedback, it is just the right program for a young and ambitioned startup like Happy Ocean Foods :) Furthermore Xpreneurs provides access to an extensive network of industry experts and potential investors.
Find out more about Happy Ocean Foods on their website or follow them on LinkedIn or Instagram.
You want to become part of the XPRENEURS incubator program as well?
Get more information and apply at https://xpreneurs.io/.