News & Stories
kiteKRAFT — Turnkey Kite Power Plants To Accelerate Energy Revolution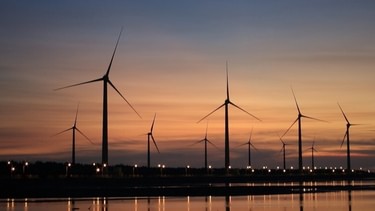 How would you describe your business idea to a potential investor?
Today's energy generation is dirty. Renewable energy technologies are not cost-effective enough and are therefore not deployed fast enough. According to climate scientists, only a few decades are left to reduce global anthropogenic CO2 emissions to *zero*. This is only achievable through improved renewable energy technologies. We are developing an improved wind power plant: A power-generating kite (or tethered autonomous electric aircraft) requires 10x less construction material while reaching higher altitudes with stronger winds and can, therefore, generate electricity cleaner and more economical than any other alternative. We make and sell turnkey kite power plants.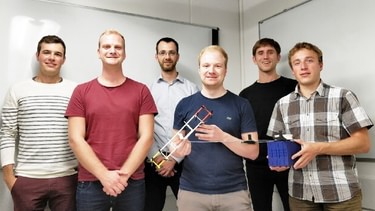 How did you come up with your idea/concept?
Three of our co-founders are about to finish their Ph.D. thesis or, respectively, are currently conduction their master theses at TUM about power-generating kites. A very broad and profound knowledge has been built up over the years of research. Besides the publishing of a number of research papers, also patent applications have been filed. All of that lead to the development of an optimized kite power plant design.
What is your business model?
We make and sell turnkey kite power plants — our kiteKRAFT systems. Our customers earn a Return on Investment with generated electricity or obtain a reduced electricity price. kiteKRAFT systems can also be rented, leased, or customers can just purchase electricity only. We also offer to service the kiteKRAFT systems.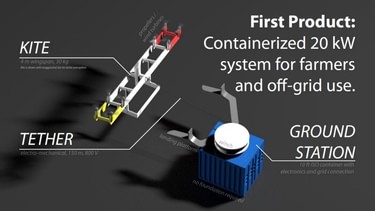 What are your USPs and competitive advantages?
We have developed a number of innovations with which the kite has a very high reliability (patent pending), a very small "kite" already generates a very large "KRAFT" (Engl. power) — kiteKRAFT! — , and the kite can be manufactured very cost-effectively. Compared to conventional alternatives, our customers gain the advantages, amongst others, of independence and energy security and lower electricity costs through a clean, mobile, flexible, and simple power plant.
Who are your first customers?
We are currently developing a 20 kW system, which is designed for own consumption and island grids. A typical customer is a farmer, a company branch in a rural area, a surface mining company, an island grid system provider or -operator, an innovative utility company, an NGO or comparable, or a private enthusiast.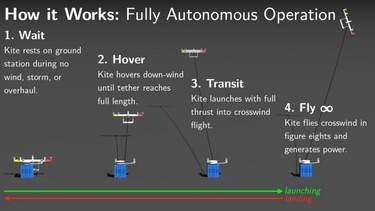 What is your roadmap and vision?
The 20 kW kiteKRAFT system is only the beginning. The main purpose of it is to fully demonstrate the technology and its economy. To really contribute to the global energy transition, larger systems are required, which generate electricity at very low costs. The kiteKRAFT technology has an excellent scalability: Due to nonlinear aerodynamic effects, larger systems are more efficient and the levelized cost of electricity is the lowest compared to any other technology. We will gradually scale up the kiteKRAFT plant design from a few kilowatts to multiple megawatts.
Why did you decide to work with XPRENEURS?
We joined the XPRENEURS incubator as part of our acceleration from Climate-KIC. At both accelerators, we can take part at excellent and very relevant workshops e.g. on startup funding and term sheet negotiations. Additionally, we are connected to potential investors.
You can get more information about kiteKRAFT on their website.
You want to become part of the XPRENEURS incubator program as well?
Get more information and apply at https://xpreneurs.io/.