News & Stories
No-Touch Robotics - The Next Generation of Robotic Grippers and Micromanipulators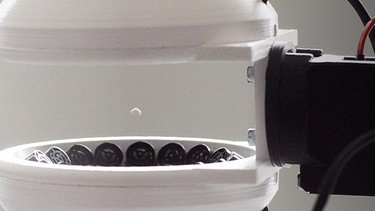 How would you describe your business idea to a potential investor?
No-Touch Robotics provides robotic grippers and micromanipulator systems for handling small and fragile objects without damage or contamination. This is achieved by levitating the object in a non-audible acoustic pressure field. This facilitates the automation of micro-assembly processes which previously had to be carried out by hand.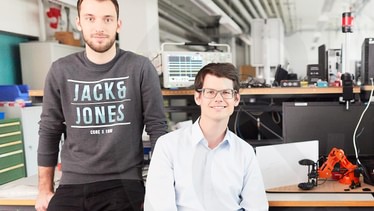 What problem do you want to solve, what is your goal?
Existing contact-based robotic grippers lag the miniaturization trend of components in areas such as watchmaking, manufacturing of smartphones and medical devices, optics, etc. The parts to be handled are often so small that they are easily damaged by conventional contact-based gripping. For manipulating even smaller objects, such as single cells or organoids on the micrometer scale, no automated solution exists. It is our goal to provide a versatile solution that enables the automation of industrial micromanufacturing tasks and facilitates cutting edge research & development involving microorganisms down to the single-cell level.
How did you come up with your idea/concept?
The concept for handling small and fragile objects without mechanical contact by making them levitate was developed during the founders' research at ETH Zurich. Due to the high versatility compared to existing solutions, we quickly identified first market segments in which our solution can serve as an enabling technology. In order to validate this need, we have conducted in-depth interviews with potential customers to explore use cases.
What is your business model?
We are selling hardware and the associated control software to our customers as an embedded system. To ensure seamless integration with existing equipment, we are providing design-in support. In order for our customers to profit from the versatility of our solution and our experience that we are collecting across different use cases, we provide regular software updates.
What is special about your solution?
Gripping substances and objects of various materials, consistencies (liquids, gels), and materials with the same gripper and without mechanical contact is entirely new in the targeted industries and applications. Our solution easily integrates into existing capital equipment (retrofitting) and facilitates precise manipulation and handling with an integrated quality control. We have been developing this patent-pending technology since 2017.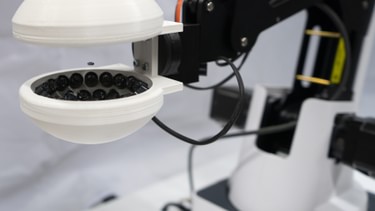 What are your next steps?
We are continuously looking for new use cases for our technology. If you want to learn more about how we can apply our solution to solve problems related to handling-inflicted damages or contamination in micromanipulation in your company, we are happy to help!
Why did you decide to work with XPRENEURS?
We are impressed with the XPRENEURS network consisting of highly promising startups, experienced mentors, and access to investors. As Munich is a major hub for robotics, we see the participation in the program as a great opportunity to grow and acquire new customers.
You can find more information about No-Touch Robotics on their website or follow them on LinkedIn.
You want to become part of the XPRENEURS incubator program as well?
Get more information and apply at https://xpreneurs.io/.