News & Stories
New Tracks, New Trends: Statistics XPRENEURS Applications Batch #13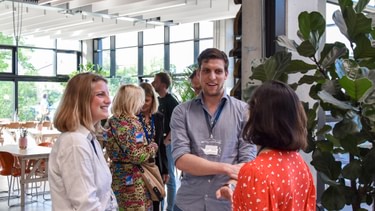 New tracks, new trends and more exciting insights into our application phase of Batch #13. After successfully implementing two new tailored tracks into our program that are specifically targeted at different groups, we can now share the statistics of our application phase and already give first insights into what the new and one of largest batches in XPRENEURS history might look like.
Record numbers in the application phase
This time we had a total of 259 start-ups in our application funnel for Batch #13 including our Built Environment Track powered by Nemetschek and our XLab Track. Our Built Environment Track powered by Nemetschek and supported by BEFIVE & TechFounders boosts outstanding early-stage start-ups in the biggest industry ecosystem on earth: the built world. The XLab Track is designed to help entrepreneurial scientists in their transition from lab to market. With these new tracks, we can provide an even better support for the needs of our start-ups.
Exciting patterns and technologies on the rise
Among the applications for Batch #13, including our tracks, we've spotted some exciting patterns: Almost half of the ventures are based on AI technologies. With our new tailored Built Environment track, we could also attract more start-ups who are working on technologies in the Built Environment sector. Besides that, we see a strong trend towards sustainability, impact driven start-ups. On top of that, we've recognized that some technologies and solutions are on the rise: More and more start-ups who applied are working on solutions in Aerospace and Quantum technologies. Beyond that, strongly represented industries are Food, Agro and BioTech and Mobility.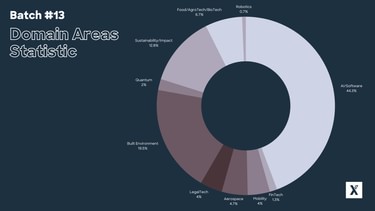 Attracting more female founders
Good news: In this application phase the number of teams with female founders has increased further compared to the last batch! This time there were 30.9% teams with female founders who applied. Last batch, it was 26.7%.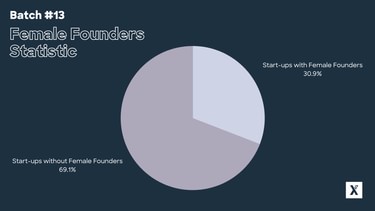 While we are happy with the positive development, we are still far from our goal and an equal distribution, but it's nice to see that our commitment to empower female founders is working out and that more and more female entrepreneurs are becoming aware of our program and our offers like the Female Founders Office Hours. With this initiative we are supporting female founders with high-quality feedback and mentoring from top level experts in various areas. In this mission we are supported by strong partners such as UVC Partners, Women Start-up and Nauta Capital. Female founders can book a session with our experts here.
Now we're looking forward to seeing who will make it to the next batch and to the pitches of the exciting teams. Stay tuned!