News & Stories
Unveiling the Application Phase of XPRENEURS Batch #14: Exploring Trends and Statistics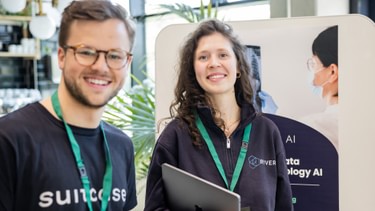 Unprecedented Numbers in the Application Phase
The application phase of Batch #14 has witnessed an impressive number of applications, showcasing the enthusiasm and drive of individuals and teams ready to transform their ideas into successful businesses. This time we had a total of 263 start-ups in our application funnel for Batch #14, even more than in our last record batch. Thanks to our constantly growing network, more and more people are learning about XPRENEURS and our program.

Exciting patterns and technologies on the rise
The spectrum of start-up applications for Batch #14 spanned various industries, reflecting the range of entrepreneurial ideas and interests. The AI/Software sector dominated the field with 44.2%. We saw more new approaches to EduTech and in the Creative sector field compared to past batches, leveraging new opportunities arising from recent developments in AI. Furthermore, we saw a strong trend towards Sustainability and Impact driven start-ups with 16.3%. On top of that, we could also attract cutting edge start-ups in the Built Environment sector (12.6 %) with our tailored track powered by Nemetschek, this time focussing on AI or Generative AI technologies for sustainability in the Built Environment sector. Compared to the last batch, we could also see an increase in start-ups who are working on solutions in the Mobility and in the Robotics sector, as well as in technologies in Legal Tech and Fin Tech.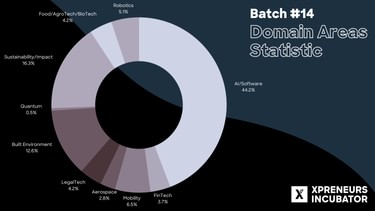 Attracting international start-ups
We've also spotted start-ups from all over Germany, teams from Europe, especially from Italy and UK, and some even from beyond Europe in our applications. The start-ups that are applying for our program, do not only originate from Technical University Munich, but also from other universities like RWTH and Technical University of Vienna, and research organizations like Fraunhofer and DLR. We can support those particularly well in our XLab Track focused on research spin offs.
Female founders in deep tech
This time we had 18.1% applications from teams with female founders. With this number we've realized once again that female founders, particularly in the deep tech sector, are still underrepresented. Of course, progress has been made in fostering gender diversity, but there is still so much to be done to come closer to a diverse start-up ecosystem. By addressing the barriers and biases that hinder women's participation, fostering an inclusive culture, and providing the necessary resources and support, we can work towards a more equitable deep tech industry. Embracing the untapped potential of female founders will not only drive innovation, but also create a fairer and more inclusive entrepreneurial landscape.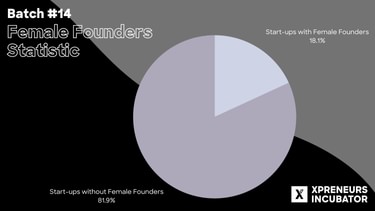 At our Diversity Start-up Night we discussed concrete actions to foster diversity in our ecosystem:
Creating a political framework that supports diverse team setups through anti-racism and discrimination initiatives, simplifying recognition of qualifications acquired abroad, and lowering barriers for public funding by providing English information and accepting grant applications.


Implementing mandatory diversity quotas for public funding and venture capital investments, helping portfolio companies in diverse hiring practices, and building diverse investment teams at all levels.

Embracing a growth mindset, developing talents within the team, and creating a family-friendly work environment to attract and retain diverse talents.

Encouraging equal distribution of household and childcare responsibilities, offering equal parental leave for both partners, and facilitating a smooth return to work after parental leave for founders.
Read more about it here. Furthermore, we continue to further strengthen female entrepreneurship with our Female Founders Office Hours. With this initiative we are supporting female founders with high-quality feedback and mentoring from top level experts in various areas. In this mission we are supported by strong partners such as UVC Partners and Women Start-up. Female founders can book a session with our experts here.
Now we're thrilled to see what the upcoming weeks will bring as pitches are pending. Let's see which start-ups will make it into Batch #14. Stay tuned!