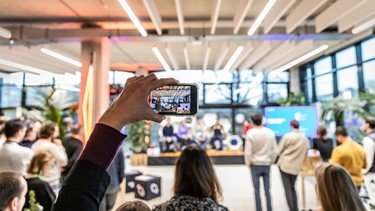 We're thrilled to announce one of the largest batches in XPRENEURS history: Batch #13! Out of a total of 259 start-ups in our application funnel, we chose 45 teams to pitch in 5 days. Now, we're proud to present the 24 start-ups that made it into Batch #13. This time we also have 2 new tracks that are specifically targeted at different groups and provide more support: 4 teams made it into our Built Environment Track powered by Nemetschek which boosts outstanding early-stage start-ups in the built world. For our XLab Track, which is designed to help entrepreneurial scientists in their transition from lab to market, we also selected 5 teams. Moreover, we worked very closely with Stefan Blenk to find the best teams in the Legal Tech sector - powered by Legal Tech Colab and the Bavarian State Ministry of Justice. A shoutout goes out to all experts from the TUM Venture Labs for supporting us to find strong teams among different domain areas.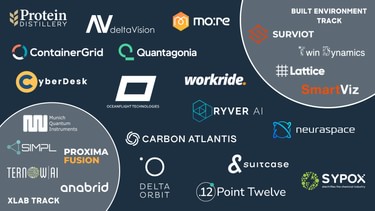 Let's welcome these 24 fantastic teams:
anabrid | Quantum (XLab Track)

anabrid is the German deep-tech startup developing future superfast and energy efficient analog coprocessors for IoT, HPC, AI, aviation, and more.


Carbon Atlantis | Clean Energy, Sustainability / Impact

Low-cost, next-generation Direct Air Capture.


ContainerGrid | SaaS, Sustainability / Impact

Automated workflows, embedded services and data-based decisions for recycling & waste management.


CyberDesk | Legal Tech, Cybersecurity (Legal Tech Colab)

CyberDesk detects and remediates data security risks across your multi-cloud architecture.


DeltaOrbit | Aerospace

DeltaOrbit builds the next generation of in-space rocket engines.


deltaVision | Aerospace

Next generation fluid control solutions for aerospace and hydrogen mobility.


Lattice | Built Environment (Built Environment Track)

Lattice is a cloud-based supply chain collaboration application for construction project.


mo:re | Health Tech, Bio Tech

Making drug development 10x faster & cheaper through AI-assisted cultivation of disease models.


Munich Quantum Instruments | Quantum (XLab Track)

We develop cutting-edge photonic quantum sensors, which can be applied in disruptive applications such as quantum computing.


Neuraspace | Aerospace

Space Collision Avoidance with AI/ML: Neuraspace allows satellite operators to reduce operational manpower efforts, in particular for constellations.


Oceanflight | Sustainability / Impact

With the ready-to-use flight controller for hydrofoilboats, Oceanflight enables customers to make fast development progress from scratch to product.


Point Twelve| Sustainability / Impact

Point Twelve revolutionizes green energy certification by making it easy for energy producers to trace carbon, obtain certificates, earn money and trust from it.


ProteinDistillery | FoodTech

Creating functional vegan protein from brewer's yeast.


Proxima Fusion | Clean Energy (XLab Track)

Proxima Fusion develops fusion power plants based on the stellarator concept to enable the global transition to de-carbonized, cheap, and abundant energy.


Quantagonia | Quantum

Quantagonia offers a hybrid quantum computing platform addressing compute-intensive fields such as AI, simulation, and optimization.


RYVER.AI | Health Tech, Artificial Intelligence

RYVER.AI makes radiology AI safe for every patient providing diverse AI-generated image data.


SIMPL | SaaS, Artificial Intelligence (XLab Track)

SIMPL helps SME-sized industrial service providers to plan, execute and manage their service processes (End2End) in a simple and intuitive way.


SmartViz | Built Environment, Artificial Intelligence (Built Environment Track)

Digital twins for smart buildings - rethinking people, place and planet.


Suitcase | Legal Tech (Legal Tech Colab)

Dispute resolution suitable to your case by creating a single platform for consumers and businesses worldwide combining multiple dispute resolution mechanisms to solve civil cases across all litigation values and legal fields.


SURVIOT | Built Environment (Built Environment Track)

Let's uprade trust with real-time engineering information. SURVIOT makes structures safer by helping engineers make informed decisions.


SYPOX | Clean Energy

SYPOX builds electrified hydrogen plants that have the power to save 1% of global emissions and billions in production cost.


Ternow | Artificial Intelligence, Aerospace (XLab Track)

Ternow creates a 3D HD map of the earth from space. Our AI convertes satellite images into maps with 5cm accuracy relevant across industries.


Twin Dynamics | Built Environment, Artificial Intelligence (Built Environment Track)

Twin Dynamics offers digital twin software solutions for creating energy conscious and healthy building spaces.


workride | Mobility

Solving commuting for companies of any size. Workride revolutionizes corporate shuttles by enabling affordable and sustainable shared cross-company mobility.