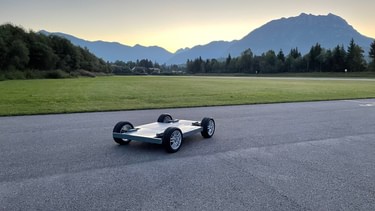 How would you describe your business idea to a potential investor (who is not an expert in your particular profession)?
We developed a revolutionary in-wheel motor technology that enables completely new vehicle architectures, like our plug & play platform. Our motor makes electric vehicles much more efficient, increases their range and makes them a lot more affordable. We aim to provide this technology to vehicle manufacturers and already have received a lot of demand.
What problem do you want to solve, what is your goal?

We aim to contribute to bringing light electric vehicles to the mass market by making them more affordable and sustainable.
How did you come up with your idea/concept?
We as a founding team identified by listening to the electric vehicle manufacturers and their problems and came up with our technology based on our experience and expertise in the e-mobility industry.
What is your business model?
We aim to provide our technology together with manufacturing partners to electric vehicle makers – both established and new – in the automotive and micro-mobility markets.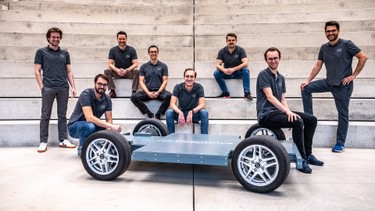 Why is your technology better than that of established players?
It is the mix – a multidisciplinary team of experts in their fields with shared roots in the student motorsport team of TUM. We know how to work together and can be quick and innovative.
What is the USP of your technology?
To put it in numbers – our powertrain is 20% more efficient than state-of-the-art, meaning a car drives 20% further with our motors. The efficiency and packaging of the motors in the wheels results in a big cost advantage that closes the gap between combustion cars and electric cars, which are nowadays still more expensive. In addition, we win a lot more space in the passenger room – comparable with five large suitcases.
What are your next steps?
We just finalized our seed fundraise of €4.3m with a great investor consortium and are now scaling up prototype production and are starting first customer projects with both automotive and micro-mobility players. Stay tuned for more announcements soon!
Why did you decide to work with XPRENEURS?
We are an experienced team when it comes to the automotive industry and business, but we are first-time founders. XPRENEURS absolutely kick-started our journey and helped us to further increase our pace. The network really is invaluable and will impact our further development significantly.
Get more information about DeepDrive on their website or connect with the team on LinkedIn.
Wanna be the next rising start-up team by becoming part of the XPRENEURS incubator program as well? Find more information about our program here.